Description
The Venum Hybrid Lite LSO is the ultimate one-size-fits-all soft comfort brace for the lumbar-sacral region. Its primary function is to reduce pain, provide support and immobilization to the lumbar-sacral spine
The Venum Hybrid design allows each patient to get the perfect compression and immobilization for his situation, whether he is a young athlete recovering from a spinal injury or an elderly grandparent who wants to be able to do more with his grandchildren.
The adjustable One-Size-Fits-All feature of the Venum Hybrid, you will not have to worry about what sizes to keep in stock because in one brace you can fit practically anyone: from a slender adolescent to a hefty security guard. This orthosis enables you to offer comfortable support and stability no matter who walks into your office by simply adjusting the corset, without shelves full of bulky braces in every size for each gender.
Built-in anterior panels produce intra-abdominal pressure to reduce the load on discs thus reducing pain and improving post-operative outcome when used appropriately. The posterior panel is available in our Independent support panel design which creates a natural support system for the spine or a Central Support panel.
FEATURES: 
Adjustable One-Size-Fits-All Design
Less Inventory to Stock
Cost Effective
Step-down Design
Streamline Design – No Bulk!!!
Mechanically advanced single or dual compression closure system provides a 6:1 pull ratio
Posterior panel is available in independent or central support panel designs which creates a natural support system for the spine that can be customized to provide the perfect fit
Ergonomic arthritic grips can be customized to patient size by extending or retracting cable length
Made of durable,highly breathable, soft, hypoallergenic materials that wick away perspiration
Fits waist circumferences from 21″ – 63″; optional extender panel adds 10″ to circumference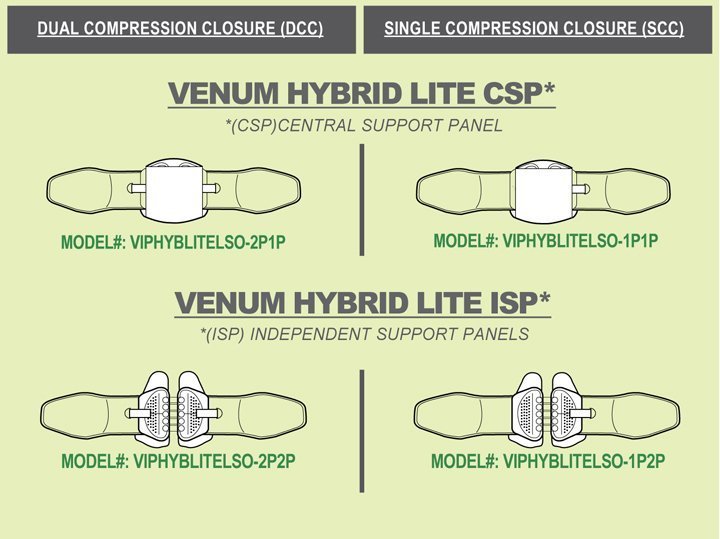 TYPICAL INDICATIONS: 
Chronic Back Pain
Degenerative, Herniated or Bulging Disc
Spondylolysis
Spondylolisthesis
Spinal Stenosis
Facet Syndrome
Tumors
Spinal Instability
Burst FX
Pre or Post-Op Spinal Lumbar Stabilization
Pre or Post-Op Disk Surgery
ONE BRACE FOR ALL PEOPLE
PDAC Approved L0627 or L0642 
BACK BRACE VENUM HYBRID ASSEMBLY VIDEO:
Resources: